Born: Canada: Quebec, Quebec City, 1940-08-10
Died: Canada: Quebec, Baie-Saint-Paul, 2010-06-30
..he was among those important Canadians who, in painting landscapes, shone a light on all that was beautiful across this land" (Jacques Saint-Gelais Tremblay, director of Baie-Saint-Paul's Contemporary Art Museum)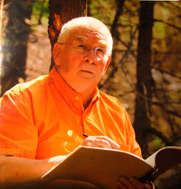 Bruno Côté was born in Quebec City in August 1940. In 1957 at age of 16, he began to work for the family publicity business, Côté Enseignes, painting signs on billboards, vehicles and storefronts. This career in publicity did not satisfy him who, from his childhood, dreams of wild landscapes. In 1978, with two teenage children, Côté decided to sell the business that he and his brother ran, so that he could pursue art full time.
Bruno Côté adored the light in the Charlevoix region, an area that the
Group of Seven
had visited and which was associated with Quebec icon
René Richard
, the godfather of the Baie-Saint-Paul artists. Baie-Saint-Paul in Charlevoix becomes the family's place of residence in 1978. This region north of Quebec City, where the torrent of the Saguenay River empties into the St. Lawrence, has been recreated in scene after scene in Côté's work. Côté rarely works in his studio, instead preferring to capture Charlevoix first-hand. In 1980 Bruno Cote takes a journey in the Rockies – the first of many expeditions from Vancouver to Newfoundland and he began he began to Canadian landscapes. A truly Canadian painter, he is recognized across Canada, the United States and abroad as one of Canada's leading landscape artist. His paintings have been given as official presents, most notably to the Scottish Parliament from the Canadian government in 2008.
American Embassy, Ottawa
Canadian Embassy of the Federal Republic of Germany
Johns Hopkins University, Baltimore, U.S.A
Musée D'Art Contemporain de Montréal (collection Lavalin)
Musée de Charlevoix
Musée des beaux-arts de Montréal
Musée Marc-Aurèle Fortin, Montréal
United Nations, New York
Scottish Parliament, Edinburg, Scotland
Simon Fraser University Gallery, Vancouver
Université Laval
University of New Brunswick

In 2008 the Canadian Parliament gave Côté's painting, The Portage Trail to the Parliament of Scotland to mark the opening of the Scottish Parliament Building.
Babinska, Roxane; Jean-Éric Riopel. Bruno Côté : Beyond the Land. ISBN 2-921585-62-6.
Babinska, Roxane; Jean-Éric Riopel (2003). Bruno Côté : au-delà du paysage. Ottawa: Éditions V. Fortier. ISBN 2-921585-62-6.
Thibault, Marie-Josée (2005). Bruno Côté : A Man in His World. Ottawa, Ont.: Galerie d'art Vincent. ISBN 2-921585-85-5.
Bruno Côté / Louis Bruens. Sainte-Agathe-des-Monts, Quebec: Éditions La Palette. 1990. ISBN 2-9801060-4-6.
Fournier, Martin (1999). Moods and colours of a Land : Bruno Côté. Trans. Katherine Baker. Ottawa: Galerie d'art Vincent. ISBN 2-921585-38-3.
Assier, Maurice; Paul V. Beaulieu (1985). Bruno Côté. LaPrairie, Québec: Éditions M. Broquet. ISBN 2-89000-094-X.
Parent, Célyne. Bruno Côté peintre. Dynix. OCLC 46528633.