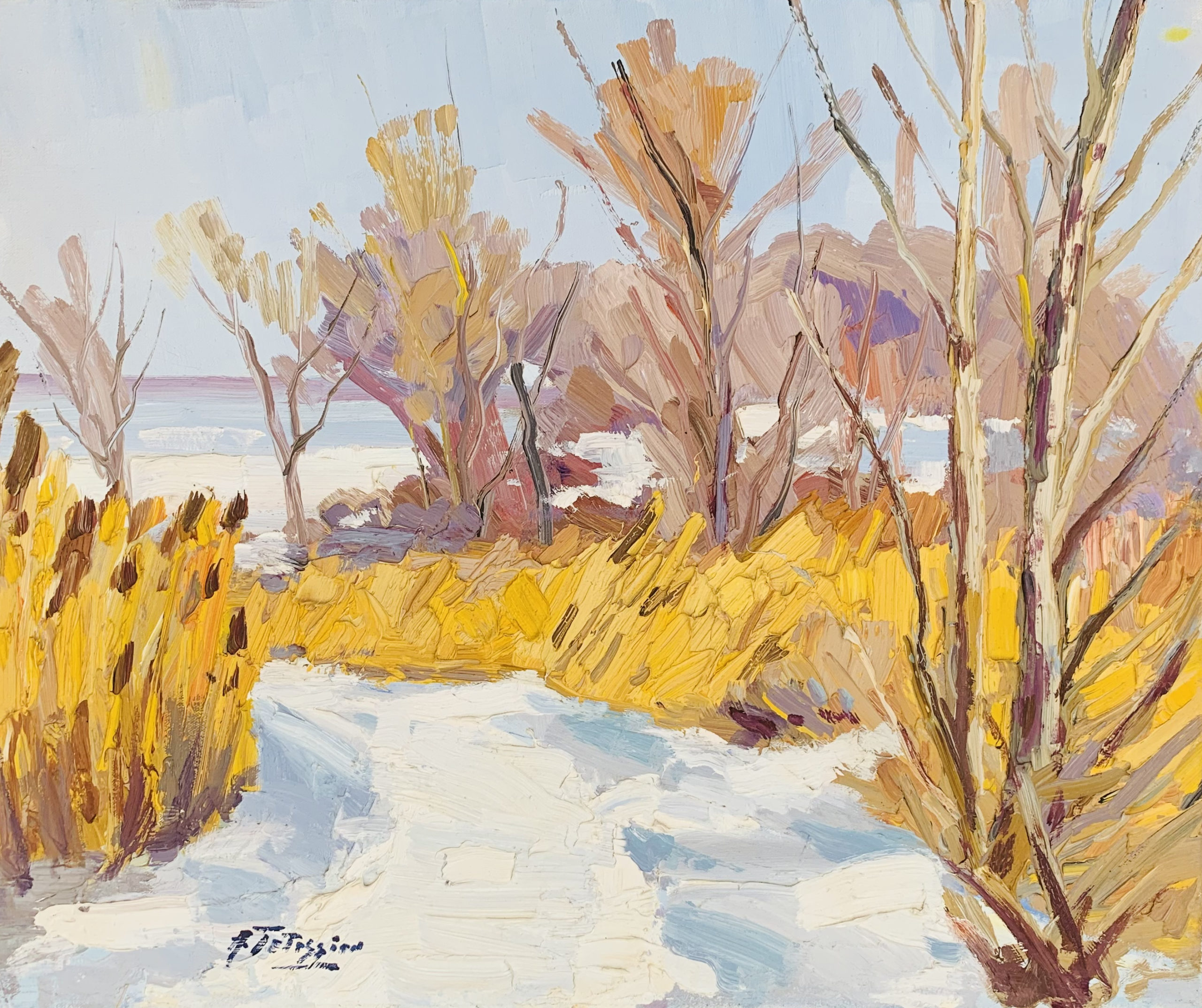 Pointe-Fortune is a village municipality in southwestern Quebec, Canada, on the Ottawa River northwest of Montreal.
The area was part of the Seigneury of Rigaud, granted in 1732 to the brothers Pierre and François-Pierre Rigaud de Vaudreuil. Around 1750, they operated a trading post on a point in the Ottawa River, which later became known as Pointe Fortune. The name "Fortune" could refer to Colonel William Fortune who had received a 809 hectares (2,000 acres) concession in nearby Chatham Township at the end of the 18th century, or to Joseph Fortune, an early 19th century militiaman and surveyor.
The village was formerly called Petites-Écorces and Petit-Carillon (referring to the larger Carillon directly across the Ottawa River), but in 1851, the post office opened under the English name of Point Fortune (modified to its current name in 1954). In 1880, the Village Municipality of Pointe-Fortune was created out of territory ceded by Sainte-Madeleine-de-Rigaud.
Signed lower left;;
signed and titled verso
Private collection, Montreal
Artwork details

Free shipping

Free return

Secure payments
Private collection, Montreal
Free shipping within Canada; Ships in 2 days from Montreal, Canada
View Details


This piece can be returned within 15 days. Free! View Details


You can pay by credit and debit card, PayPal, or bank e-transfer. View Details

Artwork by / Les oeuvres de Armand Tatossian
Armand Tatossian

Rue de la Commune, Montreal

Oil on canvas

24 x 30 in

3500

Armand Tatossian

Mont Royal

Oil on canvas

10 x 12 in

875

Armand Tatossian

Les Éboulements

Oil on canvas

30 x 40 in

4500

Armand Tatossian

Petit ruisseau

Oil on canvas

30 x 40 in

3500

Armand Tatossian

Jeu d'hockey au fin du jour

Oil on canvas

30 x 40 in

5500

Armand Tatossian

Bouquet de l'autre!

Oil on canvas

60 x 18 in

3500

Armand Tatossian

Ruisseau

Oil on canvas

18 x 14 in

Sold

Armand Tatossian

Rue de Bullion

Oil on canvas

24 x 20 in

Sold

Armand Tatossian

Une clairiere ensoleillée

Oil on canvas

36 x 48 in

Sold

Armand Tatossian

Lilas

Oil on canvas

30 x 40 in

Sold

Armand Tatossian

Oil on canvas

20 x 16 in

Sold

Armand Tatossian

Tempête a l'horizon

Oil on canvas panel

10 x 12 in

Sold

Armand Tatossian

Oil on canvas

10 x 12 in

Sold

Armand Tatossian

Sous bois

Oil on canvas

10 x 12 in

Sold

Armand Tatossian

Untitled

Oil on canvas

24 x 30 in

Sold

Armand Tatossian

Saint-Sauveur

Oil on canvas

20 x 24 in

Sold

Armand Tatossian

Untitled

Oil on canvas

24 in x 30 in

Sold

Armand Tatossian

Oil on canvas

20 x 24 in

Sold

Armand Tatossian

Oil on canvas

24 x 30 in

Sold

Armand Tatossian

L'Hiver

Oil on canvas

24 x 30 in

Sold

Armand Tatossian

Parc Mont-Royal

Oil on canvas

20 x 24 in

Sold

Armand Tatossian

Promenade Prince Arthur, Montreal

Oil on canvas

20 x 24 in

Sold

Armand Tatossian

Bouquet

Oil on canvas

16 x 12 in

Sold

Armand Tatossian

Chicoutimi

Oil on canvas

20 x 24 in

Sold

Armand Tatossian

Vieux-Port de Montréal

Oil on canvas

30 x 40 in

Sold

Armand Tatossian

Cafe de Montreal

Oil on canvas

16 x 20 in

Sold

Armand Tatossian

Untitled

Oil on canvas

18 x 24 in

Sold

Armand Tatossian

Untitled

Oil on canvas

20 x 24 in

Sold

Armand Tatossian

Untitled (Spring Hills)

Oil on canvas

20 x 24 in

Sold

Armand Tatossian

Untitled

Oil on canvas

24 x 30 in

Sold

Armand Tatossian

Untitled

Oil on canvas

22 x 18 in

sold

Armand Tatossian

Arrangement de fleurs

Oil on canvas

12 x 16 in

Sold

Armand Tatossian

Still life with flowers

Oil on masonite

16 x 20 in

sold

Armand Tatossian

Untitled

Oil on canvas

12 x 16 in

Sold

Armand Tatossian

Rawdon sous-bois

Oil on canvas

16 x 20 in

Sold

Armand Tatossian

Eastern Townships

Oil on canvas

12 x 16 in

Sold