Jean Paul Riopelle, C.C., G.O.Q., LL.D.
Born: Canada: Quebec, Montreal 1923-10-07
Died: Canada: Quebec, Isle-aux-Grues 2002-03-12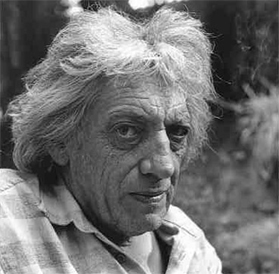 Jean-Paul Riopelle began his career at the école polytechnique in 1941, pursuing engineering with some architecture and photography. His childhood enthusiasm for making art became a hobby at this time, and he described himself as a Sunday painter with a constrained, academic style. In 1942 he enrolled at the école des Beaux-Arts in Montreal but shifted his studies to the much less academic approach at the école du Meuble, graduating in 1945. There he studied with Paul-émile Borduas, a teacher who was extremely dedicated to his students and gave them a great deal of freedom. It was under Borduas's direction that Riopelle made his first abstract painting. Borduas and several of his students, including Riopelle, formed a group that worked, socialized and exhibited together (1942-45). The group became known as the Automatistes for their spontaneous method of painting, which drew on the subconscious as a source. In 1946 Riopelle first travelled to France, where he would return and settle the following year. In 1948 Borduas authored the manifesto Refus global, which was signed by a number of his students, including Riopelle.
Riopelle had his first solo exhibition at the Surrealist meeting place, Galerie La Dragonne in Paris, in 1949. During the late 1940s and early 1950s, he met and became friends with artists, writers and gallery owners including Georges Mathieu and Pierre Loeb, who introduced him to André Breton. He also met Jean Arp and Antonin Artaud at Loeb's gallery.
Riopelle pioneered a style of painting where large quantities of varied coloured paints were thickly applied to the canvas with a trowel for such works as Pavane (1954) and The Wheel II (1956). The coming years brought Riopelle increasing success and immersion in the Parisian cultural scene. He was represented in New York and participated in the biennials of contemporary art in Venice (1954) and Sao Paulo (1955). He spent his evenings in Paris bistros with friends including playwright Samuel Beckett and artist Alberto Giacometti.
In the 1960s, Riopelle renewed his ties to Canada. Exhibitions were held at the National Gallery of Canada (1963), and the Musée du Quebec held a retrospective in 1967. In the early 1970s, he built a home and studio in the Laurentians. From 1974 he divided his time between St. Marguerite in Quebec, and Saint-Cyr-en-Arthies in France. Riopelle participated in his last exhibition in 1996. From 1994 until his death, he maintained homes in both St. Marguerite and Isle-aux-Grues, Quebec.