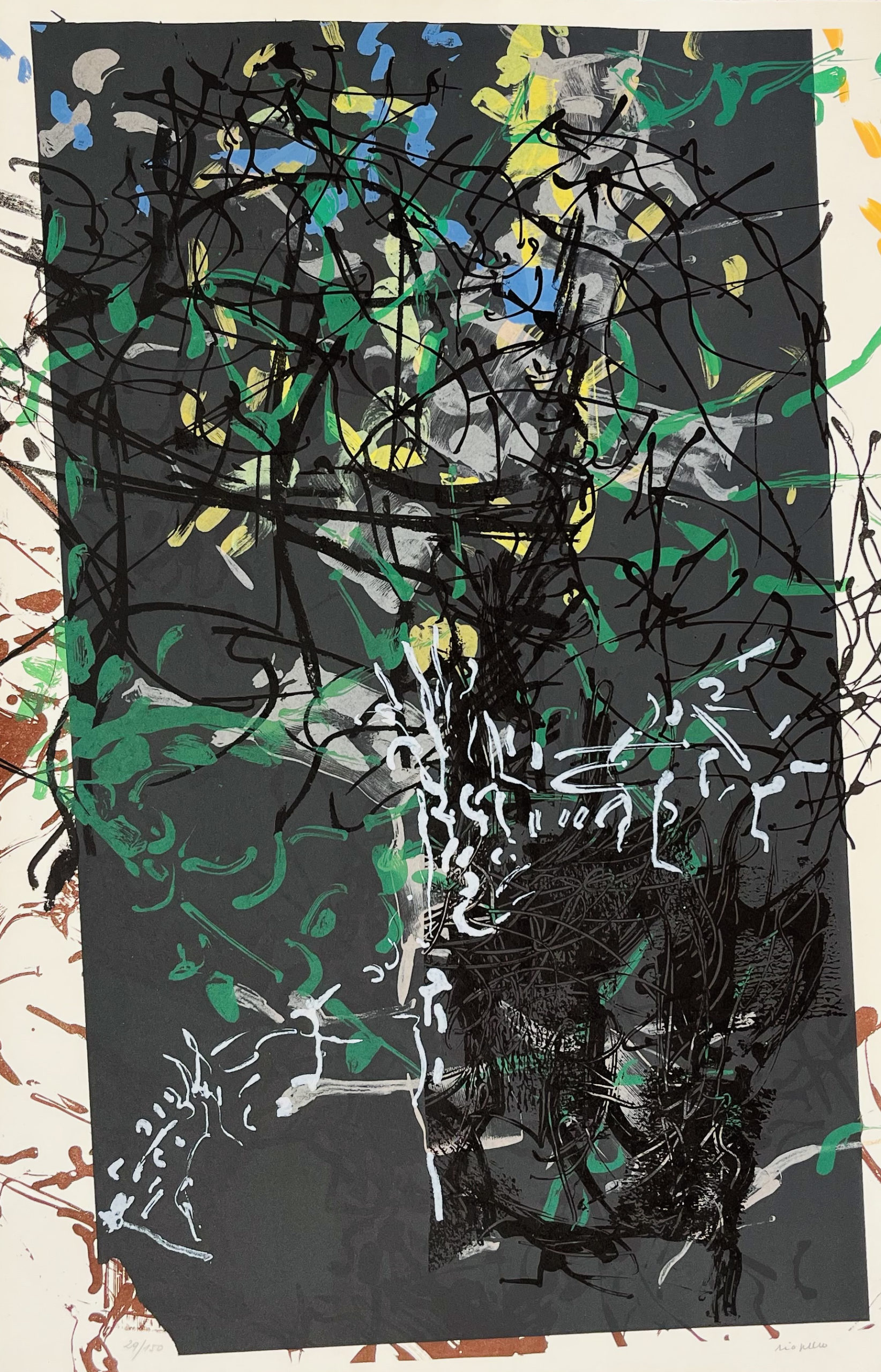 Yseult Riopelle, Jean Paul Riopelle, Catalogue raisonné des estampes, 2005, reproduced page 194,
catalogue #1968.24EST.LI.AFV
Riopelle only started engraving (lithography and etching) in 1967, nearly 20 years after he began painting. He then remained very faithful to engraving, pursuing it in parallel with painting throughout his career. Poster before the letter of 1968 is a piece produced by Riopelle at the beginning of lithography while he was exploring all the possibilities. This is one of the artist's most colorful prints. Like his painting, we perceive orange, blue and yellow notes that stand out very brightly as in a stained glass window, with a successful contrast of colors on a very dark background. This work is one of Riopelle's prints that comes closest to his pictorial practice.
Affiche avant la lettre no. 106
Signed and numbered in pencil 29/150
Catalogue raisonné reference: Y. Riopelle n° Yseult Riopelle 1968.24EST.LI.AFV, page 194
Private collection, Montreal
Artwork details

Free shipping

Free return

Secure payments
Affiche avant la lettre no. 106
Private collection, Montreal
Free shipping within Canada; Ships in 2 days from Montreal, Canada
View Details


This piece can be returned within 15 days. Free! View Details


You can pay by credit and debit card, PayPal, or bank e-transfer. View Details

Artwork by / Les oeuvres de Jean-Paul Riopelle
Jean-Paul Riopelle

Vu de chez Monet

Lithograph

23 ½ x 20 in

2500

Jean-Paul Riopelle

Auprès de mon lac n7

Lithograph on Japan paper

20 ½ x 26 ¾ in

2500

Jean-Paul Riopelle

Auprès de mon lac n6

Lithograph on Japan paper

20 ½ x 26 ¾ in

2500

Jean-Paul Riopelle

Auprès de mon lac n5

Lithograph on Japan paper

20 ½ x 26 ¾ in

2500

Jean-Paul Riopelle

Auprès de mon lac n4

Lithograph on Japan paper

20 ½ x 26 ¾ in

2500

Jean-Paul Riopelle

Auprès de mon lac n3

Lithograph on Japan paper

20 ½ x 26 ¾ in

2500

Jean-Paul Riopelle

Auprès de mon lac n2

Lithograph on Japan paper

20 ½ x 26 ¾ in

Sold

Jean-Paul Riopelle

Auprès de mon lac n1

Lithograph on Japan paper

20 ½ x 26 ¾ in

Sold

Jean-Paul Riopelle

Autres mouches no 1

Lithograph on Japan paper

20 1/2 x 26 3/4 in

2900

Jean-Paul Riopelle

Autres mouches no 2

Lithograph on Japan paper

20 1/2 x 26 3/4 in

2900

Jean-Paul Riopelle

Autres mouches no 3

Lithograph on Japan paper

20 1/2 x 26 3/4 in

2900

Jean-Paul Riopelle

Autres mouches no 4

Lithograph on Japan paper

20 1/2 x 26 3/4 in

2900

Jean-Paul Riopelle

Autres mouches no 5

Lithograph on Japan paper

20 1/2 x 26 3/4 in

2900

Jean-Paul Riopelle

Auprès de mon lac (portfolio complet nº 1 à 7)

Lithograph on Japan paper

20 ½ x 26 ¾ in

please enquire

Jean-Paul Riopelle

untitled, from the portfolio «Les Mouches à Marier» , n7

Etching

19 1/2 x 26 in

2900

Jean-Paul Riopelle

untitled, from the portfolio «Les Mouches à Marier» , n3

Etching

19 1/2 x 26 in

2900

Jean-Paul Riopelle

untitled, from the portfolio "Les Mouches à Marier", n1

Etching

19 1/2 x 26 in

2900

Jean-Paul Riopelle

Untitled n3

Etching

19 3/4 x 25 3/4 in (image); 11 3/4 x 15 1/2 in (papier)

2900

Jean-Paul Riopelle

Où nul ours n'est chassé

Lithograph

18 ½ x 25 ½ in

2500

Jean-Paul Riopelle

De chez Paolo Caldès

Lithograph on Japan paper

30 x 22 in

Sold

Jean-Paul Riopelle

Caldès

Lithograph on Japan paper

30.3 x 22.4 in

2500

Jean-Paul Riopelle

Clocher caché

Lithograph on Japan paper

30.3 x 22.4 in

2500

Jean-Paul Riopelle

Le Clocher

Lithograph on Japan paper

22.4 x 30.3 in

2500

Jean-Paul Riopelle

Quien-toi bien

Etching

22 x 29 3/4 in (paper); 17 1/4 x 23 1/4 in (image)

3200

Jean-Paul Riopelle

Qu'a tord son linge

Original lithograph in colours on Arches paper

22 x 29 3/4 in (paper); 17 1/4 x 23 1/4 in (image)

3200

Jean-Paul Riopelle

Quien-toi bien

Etching

22 x 29 3/4 in (paper); 17 1/4 x 23 1/4 in (image)

3200

Sold

Jean-Paul Riopelle

Qu'a tord son linge

Original lithograph in colours on Arches paper

22 x 29 3/4 in (paper); 17 1/4 x 23 1/4 in (image)

Sold

Jean-Paul Riopelle

D'où ce que tu sors

Original lithograph in colours on Arches paper

22 x 29 3/4 in (paper); 17 1/4 x 23 1/4 in (image)

Sold

Jean-Paul Riopelle

Le Couchant

Lithograph

22 x 25.5 in

Sold

Jean-Paul Riopelle

Affiche avant la lettre No. 142

Lithograph

27.5 x 19.25 in

Sold

Jean-Paul Riopelle

Le Clocher

Lithograph on Japan paper

22.4 x 30.3 in

Sold

Jean-Paul Riopelle

Midi à Vétheuil

Original lithograph in colours on Arches paper

20 x 23 1/2 in

Sold

Jean-Paul Riopelle

Le Homard

Etching on chiffon de Mandeure paper

23 x 29 in

sold

Jean-Paul Riopelle

Untitled ( from the book "Lied A Emile Nelligan")

Lithograph

19 1/4 x 25 1/2 in

Sold

Jean-Paul Riopelle

Le Lac

Etching

8 1/2 x 11 in

Sold