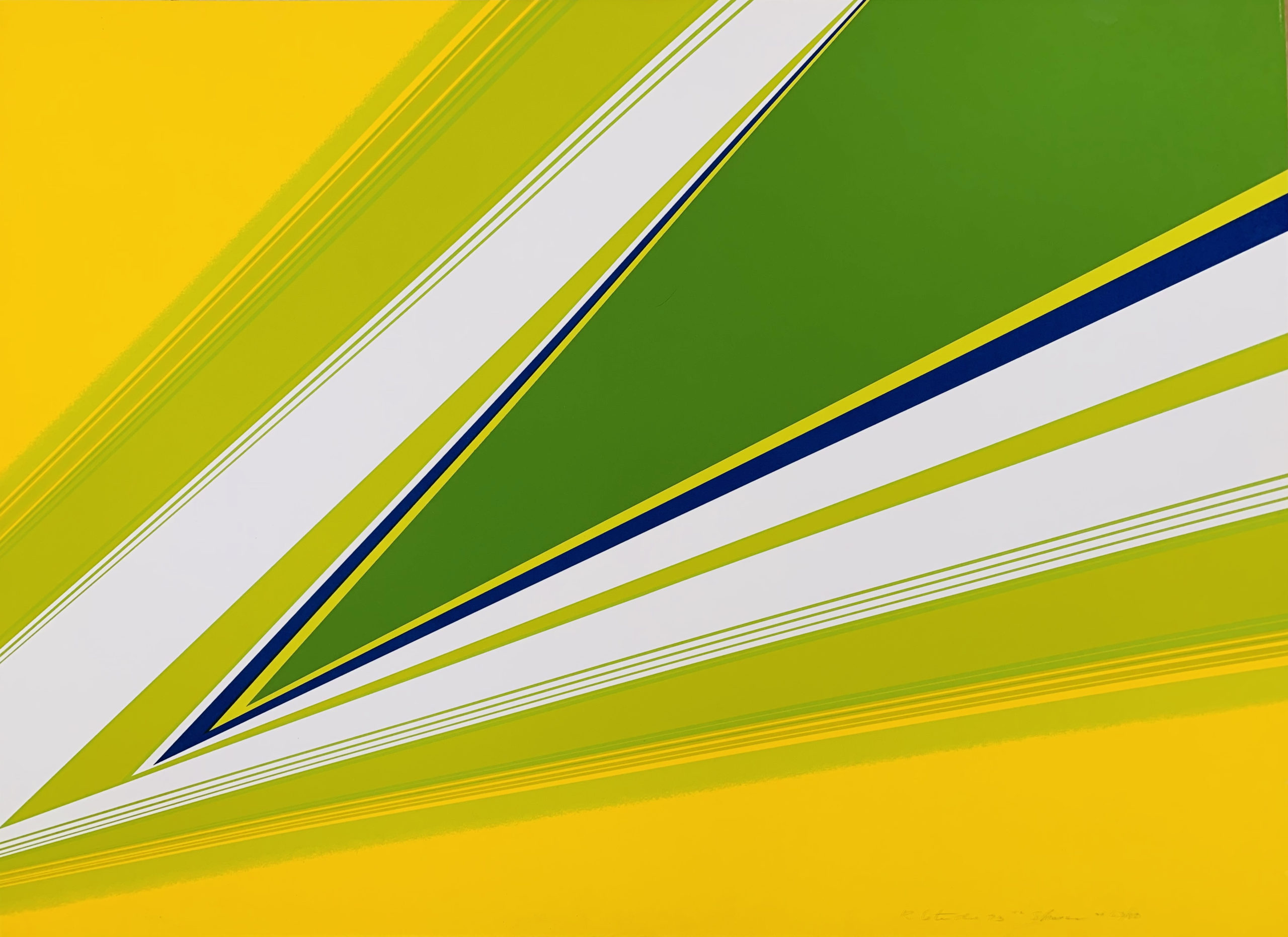 Many artists of the Post-War period embraced printmaking, creating images of their modern compositions in multiple copies. Leader of the abstract colourist movement, Rita Letendre produced many silkscreen prints, such as Sharas. Also known as serigraphy or screen printing, the silkscreen process consists of a stencilled image placed in a frame, which has a layer of mesh stretched across it, forming a 'screen'. Ink is then pushed through the stencil onto a sheet of paper.
In the 1950s when Automatists and les Plasticiens artists dominated the Montreal art scene, Letendre produced non-figurative pictorial works based on touches of color whose materiality is clearly felt and which, juxtaposed with each other, often create structures and forms expressionists.
The Hard Edge screen-printed images produced by Letendre from the end of the 1960s and during the 1970s have something of imaginary landscapes in them. These works, emblematic of the artist's mature production, in the form of arrows or light beams, gradually seem to be constructed from a horizon line and continue their journey beyond the scope of the painting. In 1973, she began to soften some of the edges in her works, a trend that would continue the next few years
Dating to 1973, Letendre's Sharas serves as a prime example of her signature style of hard-edge abstraction.
Signed lower right ,
titled, dated 1973 and numbered 63/80
Acquired directly from the Artist's son Jacques Letendre by the present private collection, Knowlton, QC
Artwork details

Free shipping

Free return

Secure payments
Acquired directly from the Artist's son Jacques Letendre by the present private collection, Knowlton, QC
Free shipping within Canada; Ships in 2 days from Montreal, Canada
View Details


This piece can be returned within 15 days. Free! View Details


You can pay by credit and debit card, PayPal, or bank e-transfer. View Details

Artwork by / Les oeuvres de Rita Letendre
Rita Letendre

Untitled

Serigraph

25 x 22 in

1200

Rita Letendre

Vibration

silkscreen

19 x 25 1/4 in

1700

Rita Letendre

Mistificat

silkscreen

28 x 40 po

please enquire

Rita Letendre

Noga

Serigraph

20 x 28 in

sold

Rita Letendre

Sharas

silkscreen

28 x 38 in

sold

Rita Letendre

Encounter

Serigraph

13.5 x 17 in

sold

Rita Letendre

Into night II

Serigraph

28 x 19 7/8 in

Sold

Rita Letendre

Asor

silkscreen

15 x 21 in

Sold

Rita Letendre

Silence

Serigraph

20 x 22 in

Sold