Free shipping and 15 days return ​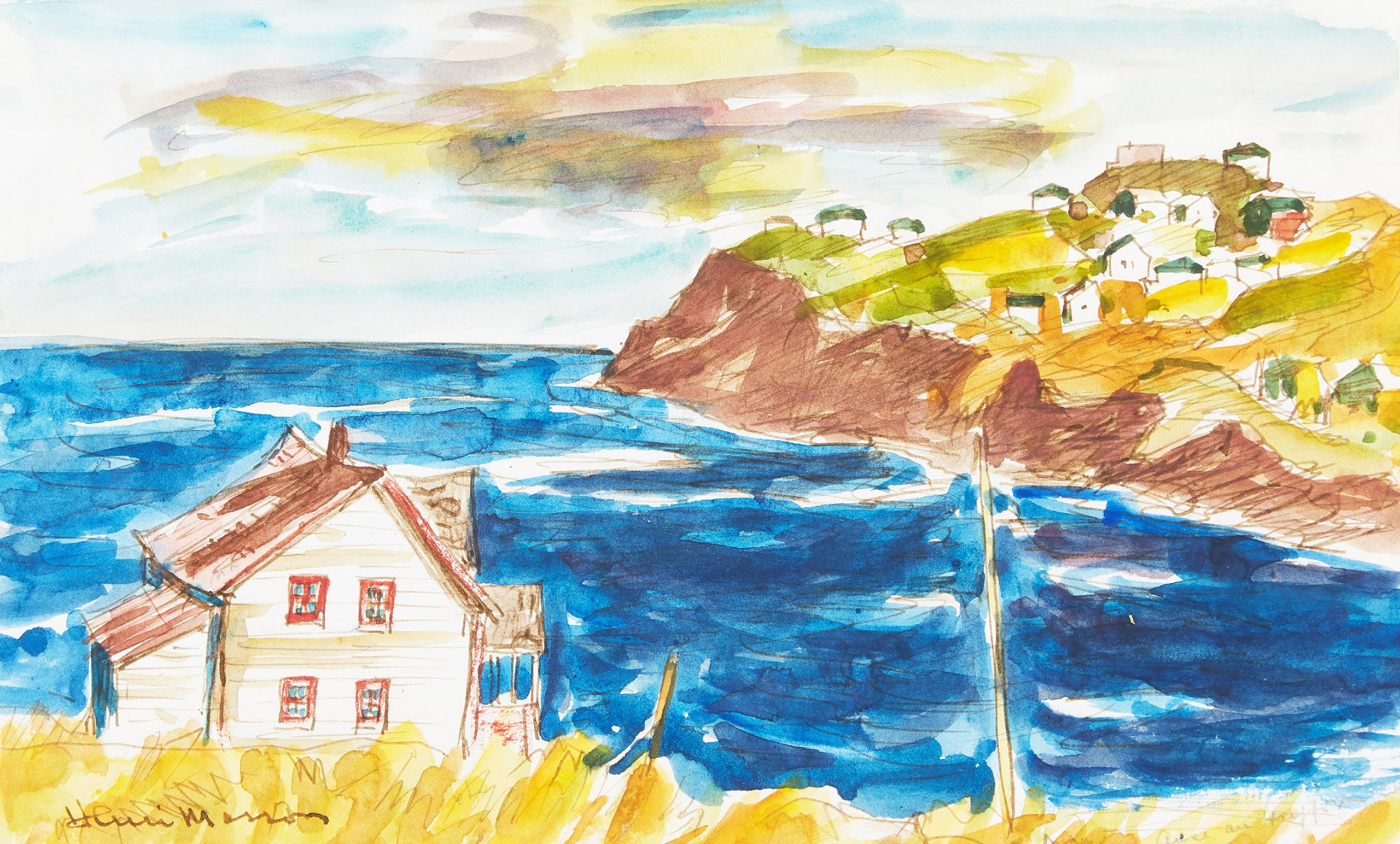 L'Anse-au-Griffon is a village in the municipality of Gaspé in the province of Quebec, Canada. It is located on the north shore of the Forillon Peninsula, and is bordered by the village of Rivière-au-Renard to the west, Cap-des-Rosiers to the east, and the Gulf of Saint Lawrence north and Forillon National Park to the south.
The opening of the valley of L'Anse-au-Griffon to colonization took place in the 1850s. At the time, the deputy for the county, John Le Boutillier, also owner of a fishing establishment in the village of L 'Anse-au-Griffon, organizes the survey of the county. His son-in-law, Louis Painchaud, Land Agent for the government, finalized the preparation of the cadastre in 1850. The lots were circumscribed in a cantonal division and divided into rectangles cut perpendicular to the Griffon River, in a way a mixture of the French seigneurial system and English townships. This is also a reflection of the population that lives in the area, of half French and half English ancestry. The division of the land was completed in the years 1851 to 1855 by the opening of a road capable of passing horse carts.
source: http://encyclobec.ca
8.25 x 13.25 in ( sight )
signed lower left; titled lower right; signed, titled and dated
Private collection, Montreal
Artwork details

Free shipping

Free return

Secure payments
8.25 x 13.25 in ( sight )
Private collection, Montreal
Free shipping within Canada; Ships in 2 days from Montreal, Canada
View Details


This piece can be returned within 15 days. Free! View Details


You can pay by credit and debit card, PayPal, or bank e-transfer. View Details

Artwork by / Les oeuvres de Henri Masson
Henri Masson

Country Dance

Oil on board

12 x 16 in

3500

Henri Masson

Quartet

Oil on canvas

12 x 16 in

1800

Henri Masson

Untitled

Oil on masonite

15 x 18 in

1800

Henri Masson

Untitled

Oil on masonite

16 x 20 in

1800

Henri Masson

Untitled

Oil on canvas

18 x 24 in

1950

Henri Masson

Spring fishing

Oil on canvas

18 x 24 in

2400

Henri Masson

Newfoundland

Oil on masonite

12 x 16 in

1675

Henri Masson

Oil on canvas

12 x 16 in

1600

Henri Masson

Fougere

Oil on canvas panel

16 x 20 in

1800

Henri Masson

Farm fields

Charcoal on paper

16.75 x 20.75 in

750

Henri Masson

Untitled

Watercolour

8 x 13 in

500

Henri Masson

freshwater

Watercolour

13 x 16 in

700

Henri Masson

Untitled

Watercolour

16.5 x 14 in

450

Henri Masson

Untitled

Pastel on paper

25 x 18 in

550

Henri Masson

Untitled

Charcoal on paper

19 x 24 in

450

Henri Masson

Untitled #5 (Street scene)

Charcoal on paper

19 x 24 in

450

Henri Masson

Untitled #4 (Landscape with a barn)

Charcoal on paper

19 x 24 in

450

Henri Masson

Untitled #3 (Landscape with a rail fence)

Charcoal on paper

19 x 24 in

450

Henri Masson

Untitled #2 (Village)

Charcoal on paper

19 x 24 in

Sold

Henri Masson

Untitled (Nude)

sanguine on paper

24 x 19 in

250

Henri Masson

Le pays magique

Lithograph

19.75 x 26 in

250

Henri Masson

Le pays magique

Lithograph

16 x 20 in

250

Henri Masson

Pierre Trudeau, Marc Lalonde, Jean Marchand

Oil on masonite

20 x 16 in

Sold

Henri Masson

End of winter, Masham, Québec

Oil on masonite

10 x 12 in

Sold

Henri Masson

Cantley, Québec

Oil on canvas

12 x 16 in

sold

Henri Masson

Untitled

Oil on masonite

26 x 34 in

Sold

Henri Masson

Untitled

Oil on canvas

18 x 24 in

Sold

Henri Masson

Cello concerto

Oil on masonite

12 x 10 in

Sold

Henri Masson

Untitled (Road to village)

Oil on masonite

10 x 12 in

Sold

Henri Masson

Autumn Rain, Hull, Qc

Oil on canvas

10 x 12 in

Sold

Henri Masson

Lake in Gatineau

Oil on canvas

16 x 20 in

Sold

Henri Masson

Meon Pike Lake, Que.

Oil on canvas

18 x 24 in

Sold

Henri Masson

Rivière-du-Loup

Oil on masonite

10 x 12 in

Sold

Henri Masson

Cap-à-l'Aigle, Que.

Oil on canvas

18 x 24 in

Sold

Henri Masson

Papineauville

Oil on canvas

12 x 16 in

Sold

Henri Masson

October mont bleu

Oil on masonite

12 x 16 in

Sold

Henri Masson

Untitled

Oil on canvas laid down on board

16 x 20 in

Sold

Henri Masson

Untitled #6 (Farmland landscape)

Charcoal on paper

19 x 24 in

Sold

Henri Masson

Untitled #1 (Forest)

Charcoal on paper

19 x 24 in

Sold

Henri Masson

Untitled

Lithograph

15 x 22 in

sold

Henri Masson

Untitled (Musician)

Original lithograph in colours on Lana paper

15 x 22 in

75

Henri Masson

Untitled (Six Girls at the Lake)

Original lithograph on Lana paper

15 x 22 in

75

Henri Masson

Untitled (Landscape with a farm)

Original lithograph on Lana paper

15 x 22 in

75

Henri Masson

Untitled (Kids waiting)

Original lithograph on Lana paper

15 x 22 in

75

Henri Masson

Untitled (kids)

Original lithograph on Lana paper

15 x 22 in

75

Henri Masson

Untitled (Brook and farmland)

Original lithograph on Lana paper

15 x 22 in

75

Henri Masson

Untitled (Village street scene with a boy)

Lithograph

15 x 22 in

75

Henri Masson

Untitled (Hockey game)

Original lithograph on Lana paper

15 x 22 in

100

Henri Masson

Untitled (Village street scene with two boys)

Original lithograph on Lana paper

15 x 22 in

75

Henri Masson

Untitled (Road to the village)

Original lithograph on Lana paper

15 x 22 in

75

Henri Masson

Untitled (Still life)

Original lithograph on Lana paper

15 x 22 in

75

Henri Masson

Je ne veux pas que tu meures, ma chère paroisse

Lithograph

12 x 16 in

200

Henri Masson

Untitled (Reading)

Original lithograph on Lana paper

15 x 22 in

75

Henri Masson

Untitled (Still life with grapes)

Original lithograph on Lana paper

15 x 22 in

75

Henri Masson

Untitled (Violinist)

Lithograph

15 x 22 in

75

Henri Masson

From the asrtist's portfolio "L'hommage aux Plouffe"
Paillasse, c'est un peu moi-même

Serigraph

16 x 12 in

200

Henri Masson

From the artist portfolio "L'hommage aux Plouffe";
Ce quartier ouvrier, c'est mon âme

Serigraph

16 x 12 in

250

Henri Masson

Dans ma cuisine, je suis l'impératrice

Serigraph

20 x 28 in

200

Henri Masson

"T'as ri de moi? Tu vas le regretter mon p'tit gars"

Serigraph

16 x 12 in

200

Henri Masson

The passing scene lower town, Ottawa

Watercolour

11 x 14 in

Sold

Henri Masson

Piazza del Campo, Sienna

Mixed media on paper

13.75 x 16.5 in

Sold

Henri Masson

Untitled

Mixed media on paper

12 x 14 in

Sold

Henri Masson

L'hommage aux Plouffe

Lithograph

11.75 x 15.75 in

sold

Henri Masson

Untitled (In the rain)

Original lithograph in colours on Lana paper

8 x 14 in (sight); 15 x 22 in (paper)

Sold