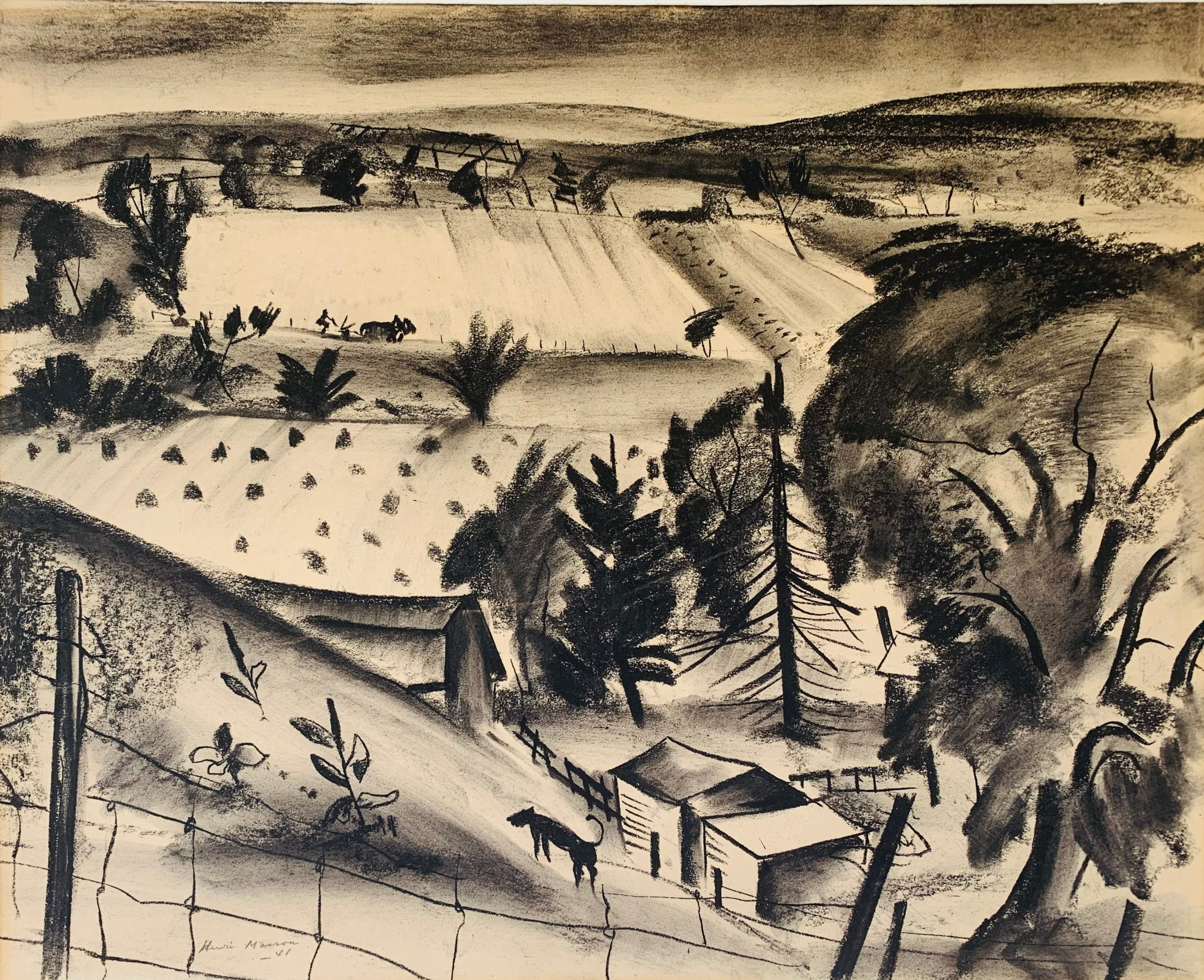 In 1940, then curator of the National Museum of Canada (now the Canadian Museum of History) Marius Barbeau described Henri Masson (1907–1996) as a chronicler and a landscapist.. He captured everyday scenes in the working-class neighbourhoods of Hull and in the villages of the surrounding countryside, painting them again and again. Using bright colours and semi-abstract compositions, these records of daily life were irresistible to collectors and critics.
Masson was born in Spy, Belgium, and demonstrated an aptitude for drawing and painting when he was young. After his father died in 1921, he and his mother immigrated to Canada, settling in Ottawa, where he apprenticed in a metal engraving studio, a career he would follow until 1945. He began taking art courses at the Ottawa Art Association in the 1920s, and by the early 1930s he was associated with Les Confrères artistes Le Caveau, where he taught, exhibited, and met fellow artists Wilfrid Flood (1904–1946), Tom Wood (1913–1997), and later, Jean-Philippe Dallaire (1916–1965).2
Masson showed a selection of watercolours, pastels, and drawings in a group show at Le Caveau in 1933, and his early oil paintings were part of the Ontario Society of Artists exhibition in Toronto in 1936. He also continued to exhibit with Le Caveau, and held solo exhibitions in Ottawa and Montreal, developing a reputation for his landscapes and urban life studies—Spring Flood, 1937, and Street in Ottawa, 1938, are typical of his oeuvre at this time. H.S. Southam, then chair of the board of the National Gallery of Canada, was his most important patron, purchasing and donating works to galleries across the country.3 Masson's exhibitions were the subject of effusive reviews in both English- and French-language newspapers in Ottawa throughout the 1940s. In 1944, the National Film Board of Canada produced a documentary about him.
Masson was friends with many artists in both Toronto and Montreal, and he was instrumental in introducing the Picture Loan Society concept to Ottawa, which had been initiated in Toronto by the collector and dealer Douglas Duncan in 1936 to promote the work of younger Canadian artists.4 Ottawa's Picture Loan Society began operating as part of Contempo Studio in 1941. That same year, Masson participated in the Conference of Canadian Artists in Kingston, Ontario, from which the Federation of Canadian Artists would emerge. He became president of its short-lived Ottawa chapter in 1945.
Reference:
Ottawa Art & Artists
signed and dated '41 lower left
Private collection, Montreal
Artwork details

Free shipping

Free return

Secure payments
Private collection, Montreal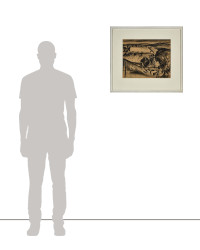 Free shipping within Canada; Ships in 2 days from Montreal, Canada
View Details


This piece can be returned within 15 days. Free! View Details


You can pay by credit and debit card, PayPal, or bank e-transfer. View Details

Artwork by / Les oeuvres de Henri Masson
Henri Masson

Untitled

Oil on masonite

15 x 18 in

1275

Henri Masson

Untitled

Oil on masonite

16 x 20 in

1575

Henri Masson

Oil on canvas

12 x 16 in

Sold

Henri Masson

Anse au Griffon

Watercolour

8.25 x 13.25 in ( sight )

675

Henri Masson

Untitled

Watercolour

8 x 13 in

500

Henri Masson

freshwater

Watercolour

13 x 16 in

700

Henri Masson

Untitled

Charcoal on paper

19 x 24 in

450

Henri Masson

Untitled #4 (Landscape with a barn)

Charcoal on paper

19 x 24 in

450

Henri Masson

Untitled #3 (Landscape with a rail fence)

Charcoal on paper

19 x 24 in

450

Henri Masson

Untitled (Nude)

sanguine on paper

24 x 19 in

250

Henri Masson

Le pays magique

Lithograph

19.75 x 26 in

250

Henri Masson

Spring fishing

Oil on canvas

18 x 24 in

Sold

Henri Masson

Musique ancienne

Oil on masonite

12 x 16 in

Sold

Henri Masson

End of winter, Masham, Québec

Oil on masonite

10 x 12 in

Sold

Henri Masson

Cantley, Québec

Oil on canvas

12 x 16 in

sold

Henri Masson

Untitled

Oil on masonite

26 x 34 in

Sold

Henri Masson

Untitled

Oil on canvas

18 x 24 in

Sold

Henri Masson

Cello concerto

Oil on masonite

12 x 10 in

Sold

Henri Masson

Untitled (Road to village)

Oil on masonite

10 x 12 in

Sold

Henri Masson

Autumn Rain, Hull, Qc

Oil on canvas

10 x 12 in

Sold

Henri Masson

Lake in Gatineau

Oil on canvas

16 x 20 in

Sold

Henri Masson

Rivière-du-Loup

Oil on masonite

10 x 12 in

Sold

Henri Masson

Cap-à-l'Aigle, Que.

Oil on canvas

18 x 24 in

Sold

Henri Masson

Papineauville

Oil on canvas

12 x 16 in

Sold

Henri Masson

October mont bleu

Oil on masonite

12 x 16 in

Sold

Henri Masson

Untitled

Oil on canvas laid down on board

16 x 20 in

Sold

Henri Masson

Untitled (Six Girls at the Lake)

Original lithograph on Lana paper

15 x 22 in

75

Henri Masson

Untitled (Landscape with a farm)

Original lithograph on Lana paper

15 x 22 in

75

Henri Masson

Untitled (Kids waiting)

Original lithograph on Lana paper

15 x 22 in

75

Henri Masson

Untitled (kids)

Original lithograph on Lana paper

15 x 22 in

75

Henri Masson

Untitled (Brook and farmland)

Original lithograph on Lana paper

15 x 22 in

75

Henri Masson

Untitled (Village street scene with a boy)

Lithograph

15 x 22 in

75

Henri Masson

Untitled (Village street scene with two boys)

Original lithograph on Lana paper

15 x 22 in

75

Henri Masson

Untitled (Road to the village)

Original lithograph on Lana paper

15 x 22 in

75

Henri Masson

Untitled (Still life)

Original lithograph on Lana paper

15 x 22 in

75

Henri Masson

Je ne veux pas que tu meures, ma chère paroisse

Lithograph

12 x 16 in

175

Henri Masson

Untitled (Reading)

Original lithograph on Lana paper

15 x 22 in

75

Henri Masson

Untitled (Still life with grapes)

Original lithograph on Lana paper

15 x 22 in

75

Henri Masson

Untitled (Violinist)

Lithograph

15 x 22 in

75

Henri Masson

From the asrtist's portfolio "L'hommage aux Plouffe"
Paillasse, c'est un peu moi-même

Serigraph

16 x 12 in

175

Henri Masson

From the artist portfolio "L'hommage aux Plouffe";
Ce quartier ouvrier, c'est mon âme

Serigraph

16 x 12 in

190

Henri Masson

Dans ma cuisine, je suis l'impératrice

Serigraph

20 x 28 in

175

Henri Masson

"T'as ri de moi? Tu vas le regretter mon p'tit gars"

Serigraph

16 x 12 in

175

Henri Masson

The passing scene lower town, Ottawa

Watercolour

11 x 14 in

Sold

Henri Masson

Untitled

Oil on canvas

18 x 24 in

Sold

Henri Masson

Untitled (Musician)

Original lithograph in colours on Lana paper

15 x 22 in

75

Henri Masson

Piazza del Campo, Sienna

Mixed media on paper

13.75 x 16.5 in

Sold

Henri Masson

Newfoundland

Oil on masonite

12 x 16 in

Sold

Henri Masson

Oil on canvas

12 x 16 in

Sold

Henri Masson

Fougere

Oil on canvas panel

16 x 20 in

Sold

Henri Masson

Pierre Trudeau, Marc Lalonde, Jean Marchand

Oil on masonite

20 x 16 in

Sold

Henri Masson

Untitled #6 (Farmland landscape)

Charcoal on paper

19 x 24 in

Sold

Henri Masson

Untitled #1 (Forest)

Charcoal on paper

19 x 24 in

Sold

Henri Masson

Untitled #5 (Street scene)

Charcoal on paper

19 x 24 in

on hold

Henri Masson

Untitled #2 (Village)

Charcoal on paper

19 x 24 in

Sold

Henri Masson

Untitled (In the rain)

Original lithograph in colours on Lana paper

8 x 14 in (sight); 15 x 22 in (paper)

Sold

Henri Masson

Le pays magique

Lithograph

16 x 20 in

Sold

Henri Masson

L'hommage aux Plouffe

Lithograph

11.75 x 15.75 in

sold

Henri Masson

Untitled

Mixed media on paper

12 x 14 in

Sold

Henri Masson

Untitled

Lithograph

15 x 22 in

sold

Henri Masson

Untitled (Hockey game)

Original lithograph on Lana paper

15 x 22 in

Sold