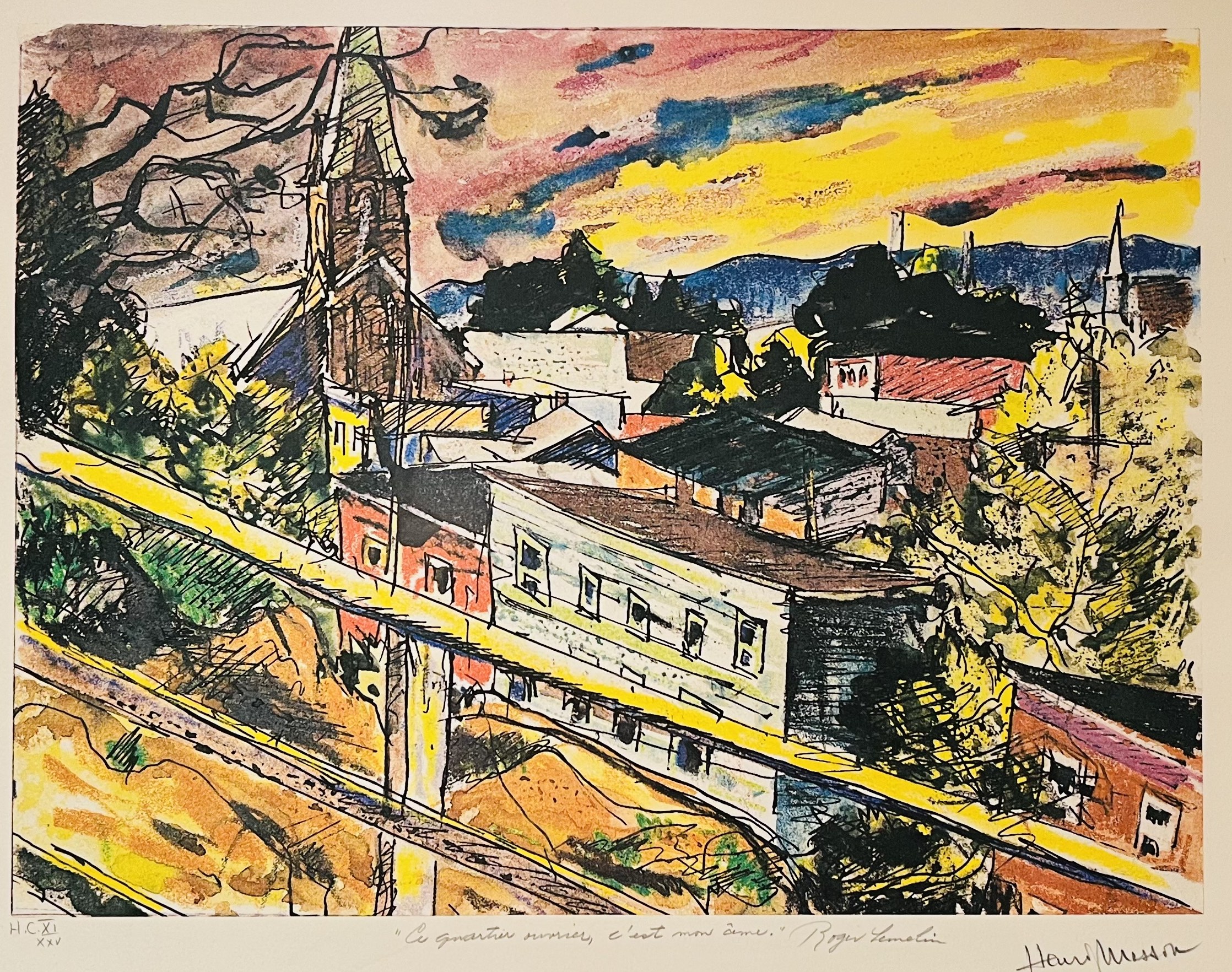 A work from the artist portfolio "L'hommage aux Plouffe" that contained eight silkscreens signed and numbered by Henri Masson and Roger Lemelin. With the publication of his novel Les Plouffe in 1948, Roger Lemelin created a fictional universe that was to be a huge success spanning several decades. The work is adapted for television and aired on the CBC in the 1950s, under the title La Famille Plouffe. This first Quebec soap opera immediately conquered a large audience and contributed to the enthusiasm of Quebecers for this type of television production, still very popular today. In turn novel, radioroman, soap opera, films and miniseries, the history of Plouffe constitutes a rich literary and audiovisual heritage that immortalizes urban Quebec from the late 1930s to the 1950s, period of identity awareness in a company in transformation.
"Hommage aux Plouffe" 8 original screen prints by Henri Masson. Montreal: Éditions Éternité, [1983].
Ed. limited to 250 copies containing 8 serigraphs numbered and signed by the artist plus 80 non-commercial copies (H.C.) , plus 12 other copies with an unpublished text by Roger Lemelin on each of the engravings. Le portefeuille est signé: La Tranchefile.
From the artist portfolio "L'hommage aux Plouffe";
Ce quartier ouvrier, c'est mon âme
Numbered HC XI / XXV, titled "Ce quartier ouvrier, c'est mon âme", signed by Henri Masson and co-signed by author Roger Lemelin
framed
Private collection, Montreal
Artwork details

Free shipping

Free return

Secure payments
From the artist portfolio "L'hommage aux Plouffe";
Ce quartier ouvrier, c'est mon âme
Private collection, Montreal
Free shipping within Canada; Ships in 2 days from Montreal, Canada
View Details


This piece can be returned within 15 days. Free! View Details


You can pay by credit and debit card, PayPal, or bank e-transfer. View Details

Artwork by / Les oeuvres de Henri Masson
Henri Masson

Untitled

Oil on masonite

15 x 18 in

1275

Henri Masson

Untitled

Oil on masonite

16 x 20 in

1575

Henri Masson

Oil on canvas

12 x 16 in

Sold

Henri Masson

Farm fields

Charcoal on paper

16.75 x 20.75 in

750

Henri Masson

Anse au Griffon

Watercolour

8.25 x 13.25 in ( sight )

675

Henri Masson

Untitled

Watercolour

8 x 13 in

500

Henri Masson

freshwater

Watercolour

13 x 16 in

700

Henri Masson

Untitled

Charcoal on paper

19 x 24 in

450

Henri Masson

Untitled #4 (Landscape with a barn)

Charcoal on paper

19 x 24 in

450

Henri Masson

Untitled #3 (Landscape with a rail fence)

Charcoal on paper

19 x 24 in

450

Henri Masson

Untitled (Nude)

sanguine on paper

24 x 19 in

250

Henri Masson

Le pays magique

Lithograph

19.75 x 26 in

250

Henri Masson

Spring fishing

Oil on canvas

18 x 24 in

Sold

Henri Masson

Musique ancienne

Oil on masonite

12 x 16 in

Sold

Henri Masson

End of winter, Masham, Québec

Oil on masonite

10 x 12 in

Sold

Henri Masson

Cantley, Québec

Oil on canvas

12 x 16 in

sold

Henri Masson

Untitled

Oil on masonite

26 x 34 in

Sold

Henri Masson

Untitled

Oil on canvas

18 x 24 in

Sold

Henri Masson

Cello concerto

Oil on masonite

12 x 10 in

Sold

Henri Masson

Untitled (Road to village)

Oil on masonite

10 x 12 in

Sold

Henri Masson

Autumn Rain, Hull, Qc

Oil on canvas

10 x 12 in

Sold

Henri Masson

Lake in Gatineau

Oil on canvas

16 x 20 in

Sold

Henri Masson

Rivière-du-Loup

Oil on masonite

10 x 12 in

Sold

Henri Masson

Cap-à-l'Aigle, Que.

Oil on canvas

18 x 24 in

Sold

Henri Masson

Papineauville

Oil on canvas

12 x 16 in

Sold

Henri Masson

October mont bleu

Oil on masonite

12 x 16 in

Sold

Henri Masson

Untitled

Oil on canvas laid down on board

16 x 20 in

Sold

Henri Masson

Untitled (Six Girls at the Lake)

Original lithograph on Lana paper

15 x 22 in

75

Henri Masson

Untitled (Landscape with a farm)

Original lithograph on Lana paper

15 x 22 in

75

Henri Masson

Untitled (Kids waiting)

Original lithograph on Lana paper

15 x 22 in

75

Henri Masson

Untitled (kids)

Original lithograph on Lana paper

15 x 22 in

75

Henri Masson

Untitled (Brook and farmland)

Original lithograph on Lana paper

15 x 22 in

75

Henri Masson

Untitled (Village street scene with a boy)

Lithograph

15 x 22 in

75

Henri Masson

Untitled (Village street scene with two boys)

Original lithograph on Lana paper

15 x 22 in

75

Henri Masson

Untitled (Road to the village)

Original lithograph on Lana paper

15 x 22 in

75

Henri Masson

Untitled (Still life)

Original lithograph on Lana paper

15 x 22 in

75

Henri Masson

Je ne veux pas que tu meures, ma chère paroisse

Lithograph

12 x 16 in

175

Henri Masson

Untitled (Reading)

Original lithograph on Lana paper

15 x 22 in

75

Henri Masson

Untitled (Still life with grapes)

Original lithograph on Lana paper

15 x 22 in

75

Henri Masson

Untitled (Violinist)

Lithograph

15 x 22 in

75

Henri Masson

From the asrtist's portfolio "L'hommage aux Plouffe"
Paillasse, c'est un peu moi-même

Serigraph

16 x 12 in

175

Henri Masson

Dans ma cuisine, je suis l'impératrice

Serigraph

20 x 28 in

175

Henri Masson

"T'as ri de moi? Tu vas le regretter mon p'tit gars"

Serigraph

16 x 12 in

175

Henri Masson

The passing scene lower town, Ottawa

Watercolour

11 x 14 in

Sold

Henri Masson

Untitled

Oil on canvas

18 x 24 in

Sold

Henri Masson

Untitled (Musician)

Original lithograph in colours on Lana paper

15 x 22 in

75

Henri Masson

Piazza del Campo, Sienna

Mixed media on paper

13.75 x 16.5 in

Sold

Henri Masson

Newfoundland

Oil on masonite

12 x 16 in

Sold

Henri Masson

Oil on canvas

12 x 16 in

Sold

Henri Masson

Fougere

Oil on canvas panel

16 x 20 in

Sold

Henri Masson

Pierre Trudeau, Marc Lalonde, Jean Marchand

Oil on masonite

20 x 16 in

Sold

Henri Masson

Untitled #6 (Farmland landscape)

Charcoal on paper

19 x 24 in

Sold

Henri Masson

Untitled #1 (Forest)

Charcoal on paper

19 x 24 in

Sold

Henri Masson

Untitled #5 (Street scene)

Charcoal on paper

19 x 24 in

on hold

Henri Masson

Untitled #2 (Village)

Charcoal on paper

19 x 24 in

Sold

Henri Masson

Untitled (In the rain)

Original lithograph in colours on Lana paper

8 x 14 in (sight); 15 x 22 in (paper)

Sold

Henri Masson

Le pays magique

Lithograph

16 x 20 in

Sold

Henri Masson

L'hommage aux Plouffe

Lithograph

11.75 x 15.75 in

sold

Henri Masson

Untitled

Mixed media on paper

12 x 14 in

Sold

Henri Masson

Untitled

Lithograph

15 x 22 in

sold

Henri Masson

Untitled (Hockey game)

Original lithograph on Lana paper

15 x 22 in

Sold